Today's review is one that I find stunning in every way. From the great contrast and detail to the perfect color balance. There is much to love about this photo entitled Oak Grove Rd Carrollton Georgia.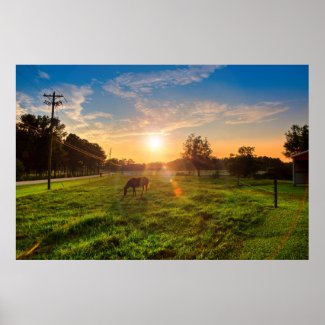 Oak Grove Rd Carrollton Georgia Print
by
PhotosByBrumac
Browse Georgia Posters online at
Zazzle.com
I could find no negatives about this shot. It is a perfect example of photography done right. The description is the only thing I felt lacking. Don't be afraid to tell the story that's in your heart when you see this photograph. All photos tell a story and I do want to emphasize photo vs picture. Anyone with a camera can take a picture but only a photographer can communicate through it making it a story and photograph. Color tones and balance are stunning, contrast between elements perfect. The lens flare even adds to the overall effect.
Now let's talk about that story what does this photograph say. Well as it is interpretation and many would argue that putting your interpretation would spoil it for others I disagree. By adding your own story to the description it offers those whom can feel the story an opportunity to see the photo through your eyes. Perhaps join you in spirit as you took this photo. My interpretation tells of that perfect peaceful evening, sitting on the porch looking over the countryside. It's that tranquil feeling that reminds us in a world of rush and pain that there is beauty to be found in the simplest of ways. It's that pause at the end of the day that gives and offers hope to a better tomorrow. It's that feeling that we are just, well human and it is possible to overwhelm ourselves and miss out on the beauty that is right up the road. That is what I hear in this photograph and what it says to me.
I truly look forward to seeing more work by this photographer in the future. Keep in mind that photography is so much more than just snapping a pic.