Today's Photograph review is of a Cable car chugs up Hyde Street.  There is much I love about this print.  It is almost nostalgic in nature and truly brings San Francisco life to heart.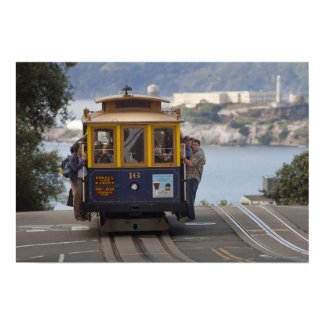 Cable Car Chugs Up Hyde Street
by
danitadelimont
Good points about this photograph include the composition and the story.  It's a good shot that tells of life in San Francisco.  The negatives I notice include a lack of depth of field and vibrancy.  Let's start with the depth of field shall we.  I honestly feel that the background on this shot should be out of focus.   The water and background building almost subtract from the focal subject, the cable car.  The foreground of the road and trees are more than fine.  All the negatives I find in this shot could be resolved through development.  Just because we are in the era of digital photography does not replace the fact that to have a photograph and not just a picture you need to develop it.  The next negative I found was that the picture while accurate in color tone and contrast lacked that subtle punch and vibrancy, again an easy solution during development.  Even just basic development and auto services available in most programs.
Even my basic photo development could help with that basic punch.  I do desire to expand on my video tutorials to include one on masking which is what you would need to actually create that Bokeh or Depth Of Field feeling.  There are many ways to accomplish this in development if it's not captured on scene.  All in all a good picture with great opportunity to become a great photograph.
Everyone can take a great picture only a photographer can develop a photograph.
Edited with BlogPad Pro