Father's day will be here soon and as many of you can well imagine family means many things including love.  When I took this photo on October 15, 2005 I never felt it would be what you see today.  With patience and experimentation with development techniques I was able to give this photo the justice it deserved.  I still long to get out and get new photographs but until such a time permits I have to settle with rediscovering old shots and analyze them through a different perspective hoping it tells a different story.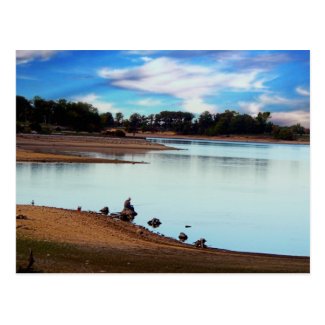 Wth Love From The Lake Postcard
by
klormand
View more Fishing Postcards at
zazzle.com
The story told by this shot, to me,  is one of a simple family man getting away from it all for the weekend.  Devoted to his wife and family with months of work related stress built up and knowing, just knowing he would not get out to the lake for awhile when winter fully sets in. Well, he loads his little red cooler and heads out for what could be his final fishing trip this year.  Whether he's just there for a weekend or a week we'll never know. He casts his line with an experienced grace and let's the worries of the world melt of his shoulders as he enjoys that peaceful, tranquil bliss mother nature provides and feels the love of his family supporting his need to get away from it all.
I can see this as a common scene everywhere and husbands sending postcards to their loved ones with simple effective messages that all start similar, 'From the lake with love ….' With modern technology that personal touch is often a short lived text message that is soon forgotten with no hope of nostalgia in the future. Something, even a year from now, won't be remembered.  Even though it's a simple trip and a simple card, it will always carry some nostalgia and emotion.  For me, love is best expressed with a personal touch.  The thought of a simple card with hand scrawled messages to a family member, friend, or love is something that stays with people long after the world has changed.  When we discover these cards years or even decades later the memories come back like a flood and we can wrap ourselves in that warm embrace of yesteryear once again.  In my opinion, the physical touch aids in recollection as much if not more than eyes alone.  The texture of the card may remind someone of the clothes worn that day, the smell of the paper reminiscent of a cologne, perfume or perhaps flowers in bloom at the time.  With all it's grand and beneficial properties technology is no substitute for the intricate emotion conveyed in a hand written note or simple postcard.