Some may call it vanity, others may call it a delusional dream, I call it a desire to improve.  Why keep everything at status quo?  I long to learn and believe the best way to do that is to revisit the past and look for what you might not have seen before.  In other words to try something new with an old photo.
[singlepic id=280 w=320 h=240 float=left] Ever since I took this photo in October of 2005 I have loved the balance of land, sky, and water.  The only problem I have had is the poor contrast and washed out feel.  I love the clouds and wish they were more prominent and visible.  I also felt the foreground to be lack luster and missing that pop that would yell at me to hang this on my wall.  The grass while green just seems a bit dull and the autumn leaves littering the ground just don't seem to add to the feel of the time of year.  All in all it turns out I loved the composition just felt the development fell short.  May have been my lack of camera control at the time or the quality of the Panasonic DMC FZ20.  While a good point and shoot it was no SLR or better.
[singlepic id=281 w=320 h=240 float=right] What I am proud of most is my ability to learn new development techniques and I'm constantly looking for that next method or technique to raise my development to the next level.  I used sagelight editor to bring this photo back to life.  As you can see the vibrant sky has been brought out and the grass vibrant and full of color.  The tree and the scattered leaves yell autumn in there subtle brown-orange tones.  To me this looks like the perfect place to escape and leave your worries and pains behind.  I'll let you be the judge, what do you think of this developed shot?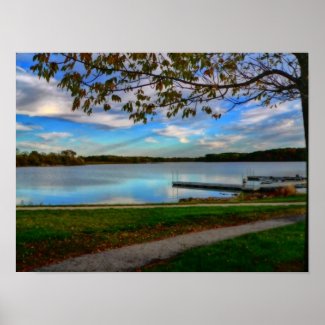 At The Dock
by
klormand
Search for another
framed art work