Sometimes the best shots we take have modernization in them.  A truck, power line, or building.  When it comes to nature photography I find this very disturbing and frustrating at times.  However this shot just called to me as the deer was peacefully grazing right next to the scrap heap.
[singlepic id=273 w=320 h=240 float=left template=exif]
Case in point this shot I took on October 2005 with a Panasonic DMC FZ20.  The way this graceful beauty of nature had adapted to it's new environment stunned me to no avail.  This original photograph, left, was taken off a scenic road, Lamp Lane, near here.  It was a good day of shooting and I had many good shots that day.  Due to lack of skill and proper software I wasn't really able to bring this scene to life.  It's amazing how much we learn in a few years just on technique alone.
[singlepic id=274 w=320 h=240 float=right template=exif]
As you can see the developed version, right, using Sagelight came out much more vibrant and detailed.  The process easy and well guided.  This is a shot that has been waiting for eight years to have life breathed into it and it's about time.  For a little self review, the original shot lacked focus, tonal control, and proper contrast.  The composition while unique and effective was poorly executed.  The development should never have required the intensity it needed.  I would have to rate the finalized product good while the original will never exceed poor to fair.
It just goes to show what experience, patience and evaluation will teach us.  This year I hope to put more into photography.  Have a great day.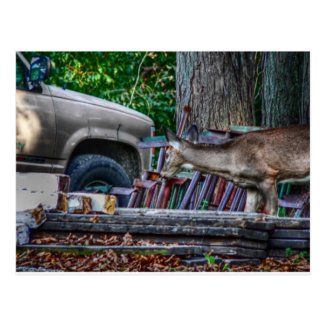 Urban Incrusion
by
klormand
See more
Deer Postcards