I chose to take the time to revisit some of my older photography and redevelop using what I know now. The photograph I chose to re develop was taken in February of 2011 of Golden Poison Frog in a habitat at our local zoo, Miller Park Zoo. I've recently downloaded a trial version of Sagelight Image Editor and must say I am rather impressed with it's capabilities. While carrying a one time cost for lifetime updates and upgrades it seemed very appealing. The features are broad and easy to navigate. The amount of development raw power is exceptional. I love the variety of features and abilities. In under 15 minutes I was able to take my photograph into Sagelight Image Editor in raw format, develop it and save as in JPEG format. I've yet to fully explore the software myself but am intrigued to learn more about it. I will still continue to develop in Gimp and the default Nikon Software to help many free photographers continue to grow in their works but feel at some point you will outgrow the free software and perhaps I'm close to that point.
[singlepic id=266 w=320 h=240 float=left]
The original photograph, left,  while well taken with the Nikon D60 seemed to leave everything a bit flat and lack luster.  I did not run this photo through Nikon's software to process it.  This is how it looks straight off the camera.  I have noticed that no matter how good the camera is and while raw format contains the most information unless you process that raw data the image just seems to lack both contrast and vividness you long to see in a good photograph.
[singlepic id=265 w=320 h=240 float=right]
As you can see the photograph developed, to the right, is nice enough for me to generate a poster from it, don't really know why I have not develop this in Gimp yet and should do so to get a good baseline for comparison.  As you can see Sagelight Image Editor seemed to process the raw data very effectively, it's noticeable from the time the photograph is brought into the program.  A few minor development strategies, mostly to enhance detail, reduce noise, and enhance contrast and the vivid tones of the subject was exceedingly easy.
What I love about this shot is the vibrant color of the golden poison frog against the dark background.  Upon closer examination there is a fair amount of noise in the background something that could easily be remedied by masking the frog out and blurring the remaining background with a Gaussian blur.  A small setting of 3 to 5 should suffice.  An alternative solution in Gimp would be to utilize the Wavelet De-noise plugin.  Both of these options would remove the noise almost completely.  Personally I feel the grain actually works to the advantage within this shot, it only enhances the viewers focus onto the amphibian which is in no way noisy or out of focus.  I also liked the simple composition and naturalistic view of this shot.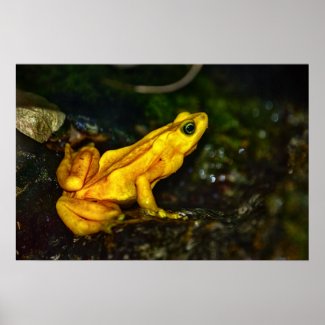 Golden Poison Frog Print
by
Nameona
Browse more
Golden Posters