I love finding exciting and new prints and posters online and this 'One Misty Morning' by SunSnaps is what I live to see. From the path through the trees to the radiant light shimmering through there is much to love about this photograph. The balance, tone, and composition all compliment each other elegantly.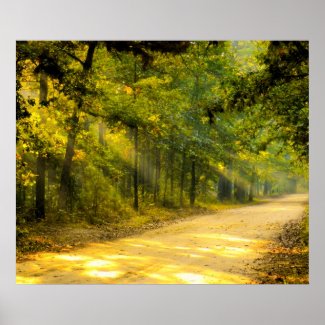 One Misty Morning Poster
by
SunSnaps
See more
Mist Posters
Sharon Woerner of SunSnaps really demonstrated not only great photography technique but development as well. The ability to capture is saying such as this takes not only patience but practice and experience as well. The way the sunlight shimmers through the trees and reflects upon the path really enhance the overall feel and experience of this photograph.
Even though there are areas of blown out highlights the photo still hold its own and balance and tone. The highlights on the path are a bit distracting and perhaps could have been taking care of if this had been an HDR photograph. Other than HDR photography use of Gimp to clone or mask fresh path in a highlight areas could enhance this photograph.
Gimp while simple and free is very useful when making subtle corrections to photography. These corrections are merely part of the development process. I don't believe Ansel Adams or any other famous photographer let their work go with anything less than what they wanted. While some people are purists every photographer needs to decide what they want to be known for. It takes practice, repetition, and persistence to develop your own special brand and stamp, so to speak.
All in all Sharon did an outstanding job on this photograph. I would have to rate this photograph very high. I look forward to seeing more of her work and what she brings in the future. Keep an eye out for a tutorial in the near future covering Gimp and how to use it for cloning and masking for correcting photographs during development.
[ezp store_name="SunSnaps" num_items="3″ grid_width="525″ grid_cell_size="medium" grid_cell_spacing="9″ default_sort="popularity" randomize="false" show_product_description="false" show_product_creator="true" associate_id="238976210627304512″ grid_cell_bg_color="f4f1e9″ show_sorting="false" show_pagination="false"]