There's nothing better than taking your dream vacation on a remote island in the Caribbean.  This photograph of Saint Thomas is a perfect way to travel to a distant resort.  I can almost feel the wind and my hair, the sun on my face, and taste the salty spray of the ocean.  For me this photograph may be the closest I'll ever get.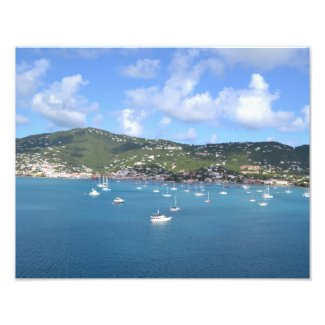 St. Thomas, USVI poster Photo Art
by
Moonstruckmotifs
Create
custom size photo prints
at Zazzle
I love this photograph from the crisp blue skies to the deep blue ocean it's a perfect balance.  The island is so green, lush, and desirable.  The ocean with all the sail boats look so enticing that I can't get the theme song to Gilligan's Island out of my head.  In addition to the perfect balance the color tones are enticing, the focus spot on, and the framing elegant.  All in all the technical and compositional aspects of the shot are right where they should be.  Moonstruckmotifs has done an outstanding job with this St Thomas, USVI poster.
The description for this poster is too simplistic and short.  Based on what is present the best keywords would be:
Caribbean
Sun
Stand
Saint Thomas
St. Thomas
U. S. Virgin Island
A description that would use all the keywords the photographer provided could go something like this:
Take your vacation today and travel to this gracious Caribbean landscape anytime you like.  St. Thomas in the U.S. Virgin Islands, is a popular ocean port for boats of all shapes and sizes.  Use this photograph as your gateway to the clear sea and nature of Saint Thomas.
Not only would the description cover all the selected keywords it would also add a few others.  Note that Saint Thomas is spelled two different ways.  Using this in the description and a keywords allows for a little bit broader search result.  The more accurate your keywords and descriptions are to your photograph the more likely it will be picked up by search engines.
I truly hope the best for Moonstruckmotifs and all that they do in the future.  I look forward to seeing more photography from them.
[ezp store_name="Moonstruckmotifs" num_items="3″ grid_width="525″ grid_cell_size="medium" grid_cell_spacing="9″ default_sort="popularity" randomize="false" show_product_description="false" show_product_creator="true" associate_id="238976210627304512″ grid_cell_bg_color="f4f1e9″ show_sorting="false" show_pagination="false"]