Another day the sun is up and hope just fills the air. Today's review is of something simply beautiful that we all love to see and capture.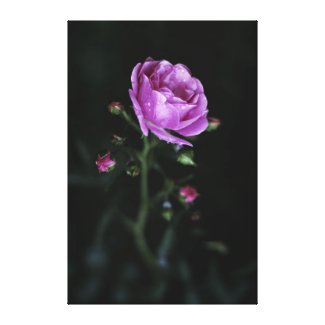 Dramatic Rose Gallery Wrapped Canvas
by
Belle13Photography
Get your own
photography canvas
The rose in this photograph is truly stunning. The framing of the subject is perfect and the color tone and balance superb. The depth of field really makes this rose pop. The do on the petals only and to its delicate beauty. The overall development of this photograph brings it to life and makes it work well.
The applications for this photograph are almost endless. From natural beauty of a simple poster to a tender and loving greeting card or postcard. This rose, with help of ample creativity could go anywhere.
I would have to rate this photograph of five out of five. The description while present and very creative is still a tad short. The more detail that we can put in our descriptions, the more words we will have available for tags and keywords. We should strive to be as verbose as possible. For example if this description you would've been used it would increase the chances of being picked up by search engines:
The water drops on the petal of this pink flower really enhance this delicate dramatic rose. It speaks of the sweet summer rain that helps nature grow. Let this pink rose, this nature's flora, from belle13 give you hope and lighten your heart with every look.
If you'll notice of incorporated almost all of the photographers chosen keywords.  By pulling the keywords from the description or ensuring your desired keywords are in your description it increases the chance that your page will be picked up.
I look forward to seeing more work from Belle13 in the future. As always this opinion is solely my own.
[ezp store_name="Belle13Photography" num_items="3″ grid_width="525″ grid_cell_size="medium" grid_cell_spacing="9″ default_sort="popularity" randomize="false" show_product_description="false" show_product_creator="true" associate_id="238976210627304512″ grid_cell_bg_color="f4f1e9″ show_sorting="false" show_pagination="false"]