It's another beautiful day outside, however I have too much to do to really enjoy it. So let's review another stunning photograph.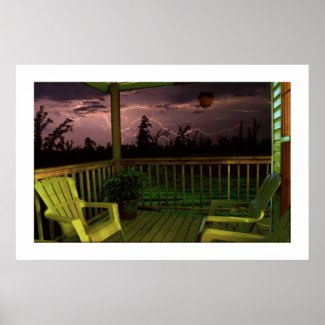 Lightning/Electricity Posters
by
estherluna
Browse for another
art reprint
at zazzle.com
This shot is stunning and so many ways. It shows the raw awesome power of nature, the silent fury it keeps in the skies. The composition of the shot is one of being in right place at the right time. The shades in the sky and the corner angle of the deck made for a naturally beautiful scene. I love the lighting, the shadows, the framing. It it all just fell into place perfectly.
Whenever development technique was used it worked perfect for this shot. I would have to rate this photo as of four out of five. Everything just worked out wonderfully for it. The description while present and accurate could have been elaborated on a touch more.  The touch of a stronger description going more into the emotional impact or creative vision can really help to sell this piece.  A simple statement such as what I used at the beginning of this post, the raw awesome power of nature, can help propel this into the next level.
By elaborating as much as possible on your descriptions you will have a larger selection for keywords and tags.  Search engines like it when they see your keywords multiple times throughout your description or page.  Search engines tend to rate the site higher with acurate keywords and descriptions.  Thus elaborating on your descriptions will help you in the long run.  Now I know that writing descriptions can be a challenging and daunting task, however I also recognize the sound benefits.
Estherluna really put together the great shot for us to enjoy.  I truly hope the best for her and look forward to seeing much more from her.  As always this review is solely my opinion.
[ezp store_name="estherluna" num_items="3″ grid_width="525″ grid_cell_size="medium" grid_cell_spacing="9″ default_sort="popularity" randomize="false" show_product_description="false" show_product_creator="true" associate_id="238976210627304512″ grid_cell_bg_color="f4f1e9″ show_sorting="false" show_pagination="false"]