I know this post comes late in the day but I feel it's one that is well worth it.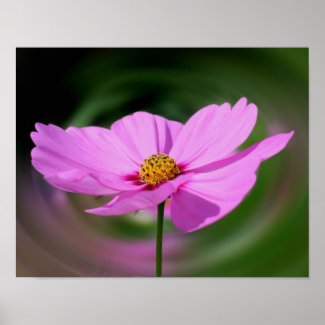 Single Pink Cosmos Wildflower Poster
by
SmilinEyes_Posters
Browse more
Floral Posters
This finalized product is a compilation of good for photography with a subtle hint of creativity.  The composition is simple and effective.  The tones appear to be accurate, though the shadows appear to be almost too heavy.  For this shot use of the fill flash would have been effective at removing the shadows without compromising the overall objective.  The blurred background greatly enhances to flower and brings it to your direct attention.  The overall effect is pleasing to the eye.  The balance of this photo would really lend itself well to an office our well lit room.  The shot speaks strongly of spring or early summer.
There's much to be admired by simplicity and composition.  This work shows us exactly that.  I would have to rate this piece a three out of five.  The description provided was fairly accurate and helps to see what I'm viewing.  To make this a touch more dreamy perhaps desturating the background swirl would make it lighter and in my opinion a bit more dreamy.
All in all the shot is a good example of what can happen when a good photograph meets creative intuition.  As usual all opinions in this blog post our solely my own.  I wish to best of luck to the photographer Susan in the future and look forward to seeing more of her work.
[ezp store_name="SmilinEyes_Posters" num_items="3″ grid_width="525″ grid_cell_size="medium" grid_cell_spacing="9″ default_sort="popularity" randomize="false" show_product_description="false" show_product_creator="true" associate_id="238976210627304512″ grid_cell_bg_color="f4f1e9″ show_sorting="false" show_pagination="false"]