Okay I know it's been awhile, I haven't been 100% and have been busy around the house all work, no play and all.  So let's dive right in to this review.  I'm very excited about this shot.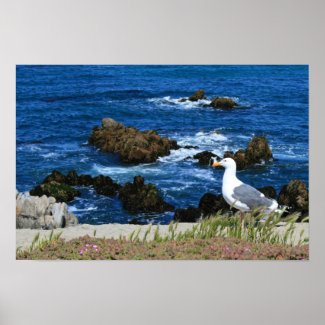 Sea Gull in front of Pacific Coastline, photo
by
michaelsnydermusic
Find another
painting poster
at zazzle.com
Not only the composition but the development could not be more spot on. More so the description is not only present but very detailed and accurate. Let's dive into more detail on the review and what makes this such a great shot and example of good photography.
Let's start with the composition it is a perfect example of use of the rule of thirds.  The waves crashing on the rocks in the background really add to the shot.  the contrast of the gull's head to the rocks right behind it let it get a bit lost a different angle may have put it agains the deep blue of the ocean and may have added to the shot but with wildlife we may not always get to choose our angles.  Still from a composition standpoint it seems to follow all the technical aspects.  From a creativitiy standpoint I think a different angle would really bring this Gull to life for us.  All in all I have to give full marks for composition.
Let's look at color tone and saturation.  The tones and saturations appear to be spot on.  Great development it really pulled it all together.  If anything the orange and red tones may be a bit subdued but the difference is so insignificant it makes no real impact.
Clarity is great at a distance at close inspection it may seem a bit grainy to some.  The easy solution get a size where it's not grainy.  If you go too large with any photograph you will see the grain.  This one is no exception just keep it within the size recommendations or smaller and you'll have a wonderful print that will last a lifetime.
My overall opinoin, with the exception of angle for possibly a bit more clarity on the gull's head, this shot is a favorite and one to add to any collection.  I would have to rate this a 4 out of 5 and have to feature it for it's wonder and beauty.  This is a prime example of everything falling into place at the right time and being able to take advantage of the situation.  I love this shot and it deserves it's place among the best I've reviewed to date.
[ezp store_name="michaelsnydermusic" num_items="3″ grid_width="525″ grid_cell_size="medium" grid_cell_spacing="9″ default_sort="newest" randomize="false" show_product_description="false" show_product_creator="true" associate_id="238976210627304512″ grid_cell_bg_color="f4f1e9″ show_sorting="false" show_pagination="false"]