Depth of field is a powerful tool and I love it when I see it used well.  Todays review is of such a shot.  The photograph is Dewey Dandelion by EstherLuna.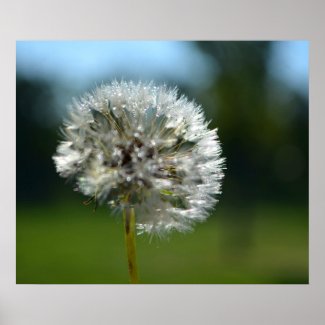 dewey dandelion 2
by
estherluna
Browse other
Nature Posters
There is a natural beauty to properly used depth of field and to each individual flower.  It's almost as if the simplest of things has the most complex beauty.  Flowers and foliage are some of my favorites.  The intricate leaves, buds, and blooms are a beauty not always seen as such.  This photo has that simplistic beauty.  It's easy to see the subject and the glistening dew on the edges really give it that extra punch.  This is a wonderful macro shot properly framed with an excellent composition.   The low angle helps us see the sky line in the distance and really aids to that depth of field.  Too often we don't or can't get close enough to our subjects to accomplish this.  I would have to rate this photo a 4 out of 5.  It has that certain beauty to it that only nature could provide.
The title is perfect the description is fair.  Even something this simple can be described as so much more than just 'dandelion'.  It really needs embellishment.  Something this great needs to be seen and a good description, title and tags will help in that.  Here is what I may have gone with off the top of my head:
Taraxacum, more commonly called the dandelion is one of natures beauty's.  While many consider this just a weed it is a beneficial weed in many ways, from it's benefits to delivering minerals and nitrogen to shallower gardening plant roots, to providing nutrients to bees and butterflies.  This natural beauty is also used for medicinal reasons.  In many ways it seems to be a miracle plant.

This shot only shows some of the majestic beauty, grace, and strength of this 'weed.'  Should we ever be as productive and beneficial as the dandelion, the world would be a different place.

References:

Wikipedia, the free encyclopedia.
I would probably analyze the second paragraph more.  Sometimes it's good to cite scientific sources when providing such information.  This description really did not take long to write and really provides us with a wealth of tags to add to our photo.  Some tags we never would have thought of otherwise, such as taraxacum, weed,nitrogen,butterflies,bees, medicinal,dandelion,productive.  The more tags we can pull from our title and description the more likely it will be picked up by search engines.  I look forward to seeing more from estherluna in the future.
[ezp store_name="estherluna" num_items="3″ grid_width="525″ grid_cell_size="medium" grid_cell_spacing="9″ default_sort="newest" randomize="false" show_product_description="false" show_product_creator="true" associate_id="238976210627304512″ grid_cell_bg_color="f4f1e9″ show_sorting="false" show_pagination="false"]