I know I've been off my game but I hope to be back now for at least a little while.  Let's start anew with a good review, a panorama shot.  If you love nature you'll fall in love with this shot as I have.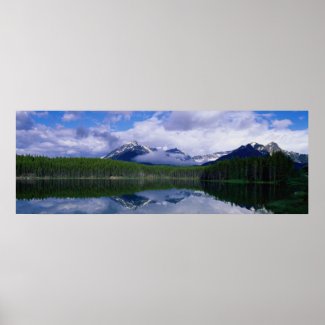 Panarama 9
by
Panarama
Browse other
Landscape Posters
The clarity in the sky and water are wonderful.  I love the composition and am just drawn in to the shot.  I could stare at this piece for days.  When looking at the high resolution preview a minute amount of grain is seen but it is not enough to take away from this work.  All in all I would have to rate this photo a 4 out of 5.  The stunning detail and development show the dedication of a serious photographer.   If this shot was stitched from multiple photo  graphs it was done perfectly with no signs of seams however I would wager it's probably a crop from a high resolution image.  Either way the end result is what makes this panorama wonderful.
Looking at the title and description, I'm devastated as they do nothing to help this work at all.  The description is non existent and  the title does nothing.  Please fix this.  Your work is great and deserves to be seen.  People won't find your work unless you tell them.  Your not exposing your work to the world as well as you could be with an effective title and description.  Again I know it's difficult but some attempt at a title and description would be better than none.
For a title I would suggest something like ' Yogi Bear Park Panoramic View'.  Please spell panoramic correctly in the future.  I suggest a location for a shot like this as you never know how many people will search for information about that location.  Now for the description anything your heart desires or eyes see would work fine.  I may have given this as a description:
Let yourself be carried to a peaceful world, where natures beauty calls.  The elegant water of Yogi Bear Park made this shot spectacular.  I could not resist the reflections in the water nor the strength and beauty of the mountains.  This panoramic truly brings nature to you.
While not the best description it is something, perhaps you could include a bit more about the location, or maybe more about your style of shooting.  Anything would truly increase your chances of being picked up by search engines.
Best of luck to you in the future.
[ezp store_name="Panarama" num_items="3″ grid_width="525″ grid_cell_size="medium" grid_cell_spacing="9″ default_sort="popularity" randomize="false" show_product_description="false" show_product_creator="true" associate_id="238976210627304512″ grid_cell_bg_color="f4f1e9″ show_sorting="false" show_pagination="false"]