This fiesty American Badger looks to need his morning coffee as much as I. Though I have been considered more grumpy than natures natural fighter. This predominatly solitary fighter is common yet many people no not they are about. While normly nocturnal, this shot is one of my new favorites.
This critter is genus Taxidae of the Mustelidae family is found widely over the north and central americas.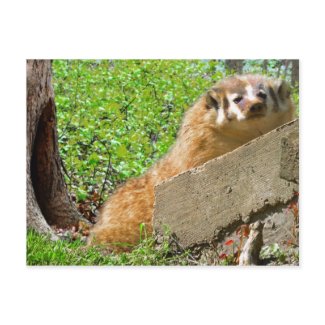 American Badger: Wake-up Call
by
klormand
Create
Post cards
at zazzle
Sometimes the best shots are the ones we don't expect. Now for the Review:
This shot has numerous good points and some bad to boot.  Let's start with a slightly larger size so you can see what I'm talking about.
[singlepic id=263 w=320 h=240 float=center]
Overall I love the composition and framing.  I could not have gotten luckier with the shots.  The largest negative I see here is shadow obscuring the eyes.  Had I been closer, lol I'd have been torn to shreds, but I would have used a reflector or fill flash to help remove that shadow.  I should have done that to begin with though it's more difficult with live animals as they tend to not want to do what you want.  All in all it's a good shot, one I'd have to rate a 3 out of 5.  Yes I know I need to work on my confidence and hopefully like my photography it will get there. I hope everyone has a great safe weekend and I hope to have a better rhythm in place for next week and the weeks to come.  Keep it safe and fun.