First off my apologies for lack of posts over the last few days.  I've not been feeling well,  I'm doing a tad better and hope to continue in the positive direction.  Enough of the me let's get on to today's review of Heaven Meets The Blue by Billett.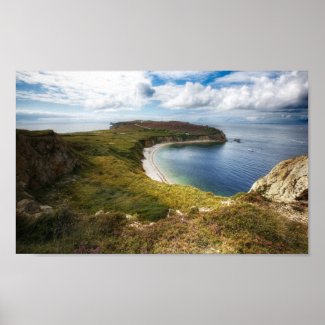 Heaven meets the blue
by
Billett
Make your own poster
online.
Remember this review is with my opinion alone.  I love the composition of this shot and the few clouds meeting the ocean is absolutely stunning.  The tones  and color balance seem spot on.  The beech, foliage, and rock formations all contribute to the desired effect.  This piece speaks volumes of nature, peace, and faith.  Something so majestic definitely deserves recognition.  The only problem I see the longer I look at this shot is the mildly distracting shadow prominent in the lower left side.  This is a case where sound HDR or other development techniques could have resolved that without taking away from the scene.  From a viewing standpoint I would have to rate this photo a 3 out of 5.  It's a good photo with a mild distraction on the left.
When I move to the description and keywords, or tags, I was left more than a little with a lacking feeling.  The description was overtly vague, and the tags, keywords, were as well.  If you want your work to be found and seen a sound description and keywords is vital.   I know it's difficult, as I still have photo's I need to work on the description and tags, but I also have seen the difference.  Almost all of my sales come from photo's that have a sound description and appropriate keywords.  People won't find your work if you don't label it correctly.  It's like calling peanut butter that brown stuff and putting it in the automotive department.  No one will find it and if they do what's going to compel them to buy it.
Billett I love the composition and wish you the best of luck and success in your future.

Browse other gifts from Zazzle.