It's a bit cloudy outside with a good chance of snow this afternoon.  I found the perfect photo to lift my spirits, though it's one of Autumn it caught my attention right off.  Today's photograph review is of the Photograph entitled "Fall Trail" by CreationPhotos.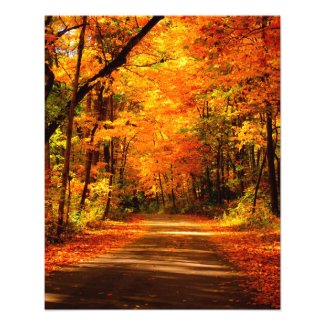 fall trail photo
by
CreationPhotos
View other
Fall Photography
There is a lot to love about the natural beauty of this shot.  The almost divine way the light shimmers through the trees onto the trail, the vibrant colors and the overall feeling of hope on any journey.  It's an impressive photo that screams this is the path to take.
Okay now that my interest has been peaked let's take that closer analytical look.  Composition is superb the angle almost perfect.  Sliding the trail a touch to the right in the frame with the way it curves left deeper in the scene could make this a touch more appealing and keep the photo composed within the rule of thirds.  The  warm color and tone balance is perfect for this shot and the use of shadows and lights only enhance it's beauty.  It's a good example that HDR would have ruined this shot as the shadows would have been removed.  Closer inspection of the trees and leaves show a slight blur,  and it works well for this shot.  There is no single focal point that is in focus.  Like I said for this photograph it works well.
All that being said a good description could really sell this photo.  On a scale of 10 I would have to rate this photograph as a 10.  It's all pro's and no con's the only thing that could make this a different shot is by moving the trail in the frame a touch to the right.  That may help the shot but it would be hard to improve upon this work.
As for description I was disappointed to not see one.  If this were my photo I would have to describe it as:
Take a journey wherever your heart desires and follow your dreams down this trail, found in Egypt.  Shed your burdens along the way and walk under the graceful light of your beliefs.
That is just one of countless possibilities.  The description should really capture the emotional and religious aspects of this photo.  There are many photo's of similar composition so highlighting and emphasizing these points will help it stand out from the rest.  All it all this photograph is a new favorite of mine and one I had to like.
[ezp store_name="creationphotos" num_items="3″ grid_width="525″ grid_cell_size="medium" grid_cell_spacing="9″ default_sort="popularity" randomize="false" show_product_description="false" show_product_creator="true" associate_id="238976210627304512″ grid_cell_bg_color="f4f1e9″ show_sorting="false" show_pagination="false"]