This morning I'm fighting a bit of a head cold so if I sound congested, I apologize in advance. 😉  The review for the the day is of a photograph that can be interpreted in many ways so I want to remind every one that you may not agree with what I see as it is only my opinion and I love to hear other expressions on the same photo.   The photograph is entitled Morning Inspiration by Christine Goldbeck.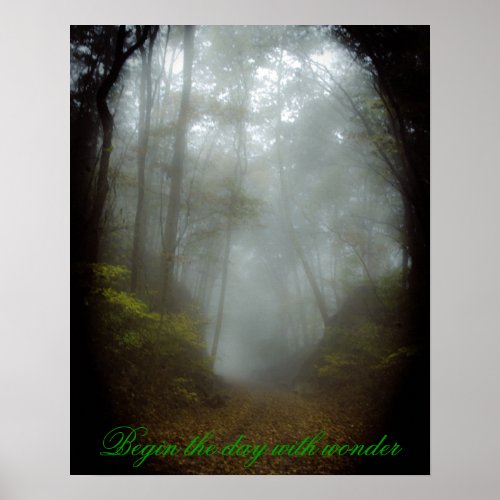 Morning Inspiration
by
ChristineGoldbeck
Browse other
Landscape Posters
A large number of thoughts rush through my head on this shot.  I love the ambiance cast and emotional strength of this well balanced scape.  To me it seems like a gateway to a whole new world beckoning us forward to a new adventure that has promise of excitement and treasures.  The framing of the shot and balance of the haze is elegant and well done.  Text on Photos tends to get a bit challenging and almost feel the method here is borderline getting lost.  The text should be part of the image,  I'll try to get some tutorials and examples of what I mean up soon.  Let's stay focused on this photograph.
I would have to give the photograph a 9 out 10.  Good points:
Superb composition, framing of the shot is very creative and took a great eye to see the natural beauty in it.
Color tone and balance seem spot on for the overall affect.
Without a doubt the photographer was able to capture the wonder she so desired.
Now for the not as good:
Caption at the bottom almost takes a little bit away from the shot.  A solid frame with caption above or underneath in the matting would make it easier to read and not take as much away from the photo.  Other text methods could be utilized as well.
Had the inspirational quote been handled a bit different this would be a perfect 10.  Keep in mind this is only my opinion.  Hey everyone is entitled to one.  ChristineGoldbeck I hope you continue to post your work and look forward to watching you grow as a photographer and artist.  I wish you the best in all that is to come in the future.