I chose this photograph for today as it is a wonderful shot that brings the optimism out in me.  The photo for review today is called Athabasca Falls by vilhei.  I love a good landscape shot one that captures not only the beauty of what is on the ground but the sky as well and this shot is very well balanced in all areas.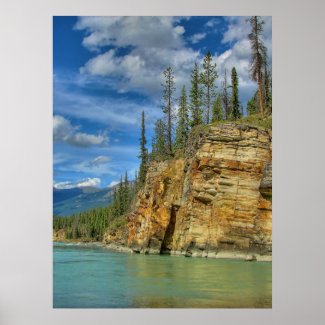 Athabasca Falls I
by
vilhei
Browse for another
art reprint
at zazzle.com
The composition is wonderful I almost wish this was a landscape shot vs portrait as my eyes follow the rock face to the back of this cove and off the print.  A wider angle could help that aspect and not lessen the beauty of this piece.  I love the tonal range captured it is perfect for this shot from the sky to water of the lake the stunning colors just pull you in.
When looking at this piece I am brought from my woes to a wonderful place where the sun beats down and every day is full of adventure and excitement.  It's that perfect place I would love to get to some day but fear only my dreams will reach these locations.  I love a good positive journey and many thanks to the photographer whom brought this shot to life.
As for my rating I would have to give this a 10.  The wide angle shot would be nice however everything else is as close to perfect as a photographer could hope for.  Great development, composition, and balance.  You couldn't ask for anything more.  Here is some more work from the same photographer.
[ezp store_name="vilhei" num_items="3″ grid_width="525″ grid_cell_size="medium" grid_cell_spacing="9″ default_sort="popularity" randomize="false" show_product_description="false" show_product_creator="true" associate_id="238976210627304512″ grid_cell_bg_color="f4f1e9″ show_sorting="false" show_pagination="false"]