As much as I love a good landscape I equally have a fondness and soft spot for animals.  When I stumbled across this photograph I knew it had to be my next review.  Keep in mind that this review is written using my opinion alone.  The shot is titled The Yearling by PhotoByHolly.
Framing wildlife takes patience, practice, a steady hand and a bit of luck. Plants and foliage are not taking over the shot, by obscuring too much of the subject and the timing was excellent.  The overall hue and saturation may have left the photograph a touch too bright.  Developing the photo with post processing could have a profound affect  on the photo by removing the small flashes of over exposed green that seem to steal my attention.  Framing of the fawn is good though it does break the rule of thirds, a little tighter zoom or crop around her would help reduce the grass distraction and eliminate any doubt about the rule of thirds.  All in all this is a good photograph and I would have to give it a 7 out of 10.
At first glance this photo was enough to draw me in, once I was taken and started to immerse myself in the photo is when I noticed these details.  I love the excitement that I can feel from the photographer in taking the shot and the passion with which the photo was taken.  PhotoByHolly all I can say is I will be keeping an eye on your work and look forward to seeing what you develop in the future.  Best of luck in success and keep shooting.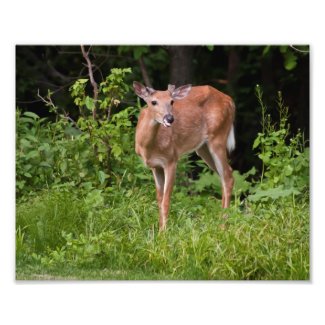 The Yearling
by
PhotoByHolly
Browse other
Deer Photography