Well it's another review morning and to reiterate to any new followers the review on this piece is purely my opinion.  Stumbling on this shot was pure luck and 100% treasure.  Here it is the photo Autumn At The Grist Mill by Michael Shake.
There is so much to love about this photograph I almost don't know where to start.  So let's start with the rustic mill and the wonderful framing of it.  It fits perfect in this shot, sometimes we will find the best subjects  but are unable to relocate it to a suitable location.  Michael this Mill belonged here for you to shoot.  Let's approach that silky water, perfect exposure for the effect, and wonderful balance for the Autumn Colors surrounding the Mill.  I feel like I'm there and can feel the cool damp air entering my lungs as I smell the sawdust from active milling in the past.  This photo done either intentionally or not is perhaps the perfect HDR photo either through digital means or with superb film development technique.  Either way this is truly a masterpiece.
I have no choice but to give this photo a perfect 10 out of 10.  In my opinion I don't find anything wrong with this photograph.  The lack of description is disheartening and if asked to describe it would have to be
Take a trip down memory land where mills were active and nature a part of life.  A place where challenge was met and politics helped to organize a growing nature.  This rustic mill and stream has seen many decades and has countless stories to tell.  What will this elegant mill in Egypt??? tell you?
All in all Michael this is an exquisite piece and one I will fondly enjoy for years to come.  This photo was taken with grace and a great eye and the first perfect 10 photo I've reviewed.  I hope this opinion helps to motivate you and keep you going in photography.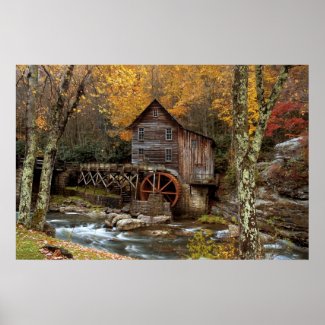 Autumn At The Grist Mill Print
by
Michael_Shake
See more
Grist Posters