As I did yesterday I have a strong opinion about a photograph this one is called Tranquil River taken by Picture_Imperfect.  I'd like to say the description on this piece right off the bat has something to offer, the location.  Photographs for sale without a good description is almost like asking a blind man to buy something based on their opinion of color, it just doesn't work.  Personally I know how difficult writing that description and finding the right keywords can be.  I still have numerous products to revisit and correct those issues.  Enough of the rant let's talk of this Tranquil River.
What I love is the simplicity of the piece, the subtle relaxing transitions between tones, shadows and light helps this photo to live up to it's title.  It is not over saturated by any means nor is it under developed.  Picture_Imperfect is anything but when describing this work.   The saturation could have been brought up a tad to bring the grass out a touch more but too much would kill the feeling and effect.  When attempting for a scene such as this subtle and light touches will win over dramatic every time.  The photographer did a great job to prevent the sky from being washed out as that is far too common with many landscapes.  I have ruined many an opportunity due to poor balance.  I would have to rate this photograph a 9 out of 10.  It is as close to perfect as I could give.
Picture_Imperfect if you read my opinion please know that you have a new fan in this piece and I wish you the best in your future and success.  This shot is a great piece.  The only thing lacking for it to be a 10 in my opinion is a good description and selective saturation of the grass to bring out the yellowish tones a touch more.  Excellent work.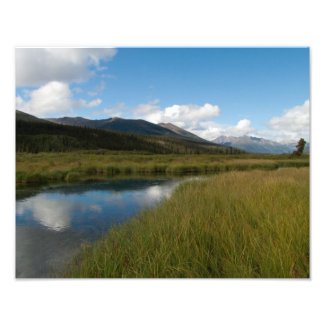 Tranquil River
by
Picture_Imperfect
Visit Zazzle for
matte photo printing