I love nature and forest and waterfalls especially catch my eyes.  When I stumble across a piece such as this I can't help but admire, and get lost in the photograph.  Keep in mind I am just giving my opinion throughout this post and that is all it is.  The photo to be reviewed is Middle North Falls by DanitaDelimont below.
There is so much to love about this piece.  The photographer took great care with proper tripod set up and shutter speed to give that mysteriously silky feel to the waterfall.  Again the description for this photo left me a tad disappointed but the photo itself is still stunning.  The tones and colors of the forest are vibrant and in excellent contrast to the falls themselves.  I do have one lighting issue with the top left where the extended exposure seems to have brought too much light in that corner.  That is the only issue I see with this photograph.
The exposure issue is almost distracting and the biggest reason I would have to give this shot a 7 out of 10.  Multiple development techniques could be used to correct the area of over exposure to resolve this issue.  As I shoot mostly in digital the development of this image could have been masked in the that corner to blend the saturation closer to that which is throughout the image.  All in all I like the photograph just would look for a bit more description.
Most photographers have a difficult time writing a description for their photo as they feel it will speak for itself.  In most cases it will, however to some more logical person it's just a conglomeration of colors and without the additional description they will never truly see it for the real beauty it is.  I wish this photographer the best of luck in success and life.  Thank you for sharing this scene with us.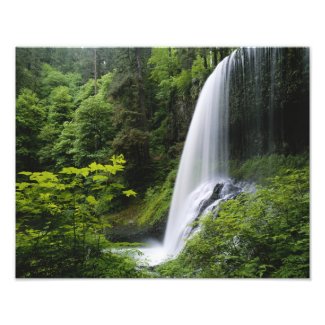 Middle North falls, Silver Falls State Park,
by
danitadelimont
Try Zazzle for
large photo printing