I know over the past several months I've not had new material, this in part due to just not feeling well enough to travel much beyond the confines of my home.  Thus the opportunity to bring you exciting new photography from me has been unavailable.  That should not stop me from sharing other great works I've found and provide my opinion I will also provide a link to where you may purchase a print if it is available.  I hope all enjoy the reviews.
This first review the photographer entitled Conversations with the wind.
There is much to love about this piece, I love the dynamics and the use of HDR to bring out that which the photographer, Vedran.  His profile is blank so I am unable to link.  The ambiance of this piece is filled with a serene feeling giving the impression of a peaceful evening in a field.  The effect is present and powering but the single strands of tall grain in the forefront is a bit distracting and I feel that without it you could be staring into eternity.  Though the effect does have redeeming qualities when the title is taken into consideration.  All in all I have a fondness of this piece and on a scale of 1 to 10 would have to rate it a 7.  While having many great qualities including excellent color and contrast control there are some distinct distractions that make it a bit of a challenge to see what the photographer was striving for.
What I may have done different in this piece to emphasize the wind a bit more would not have been to focus on single strands but the overall view.  The use of a slower shutter speed would have allowed for the field to receive a subtle blur that would only enhance the wind as the title states.  I with this photographer much success and look forward to seeing other shots in the future.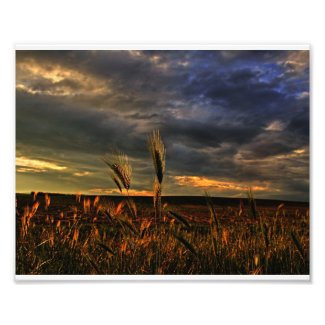 Conversation with the wind
by
Vedran
Browse more
Hdr Photography